Handmade Turquoise Wrap Bracelet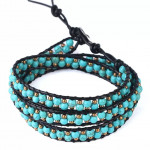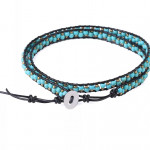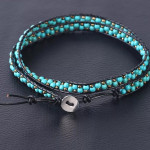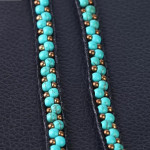 14.95 CAD
http://kittijewelry.com/turquoise-wrap-bracelet_132566
Hurry! Only 2 items left in stock.
Wade through lazy pools with this natural turquoise leather wrap bracelet. Natural turquoise and copper beads are strung along a delicate strand for a bright and polished look.
Bracelets Type:

Wrap Bracelet

Metal Type:

Copper

Material:

Leather

Chain Type: Leather

Rope Chain

Style:

Bohemia

Clasp Type:

Adjustable Button Clasp

Bracelet Inner Perimeter:

Approx 56.2cm

Bracelet Length:

Approx 59cm

Bracelet Feature:

100% Handmade + Whole Beads + 3 Layer Design

Material:

Leather / Turquoise Beads / Copper Beads
We love natural materials and try as much as possible to use them. Most of our jewelry incorporate stones in the designs, they have a story to tell, they are unique, soft and cool to the touch.
Stones have had meaning and have been used to heal and to provide energy and spiritual guidance for centuries.
Each piece of jewelry is either hand-made or hand-picked by us. My vision is to bring high quality jewelry, at an affordable price to every women.

We ship directly from our supplier which enables us to bring the savings on to you. Including FREE SHIPPING.

FREE SHIPPING (Approx) CAN 16-26 Days - USA 12-20 Days

(*TO PAY BY CREDIT OR DEBIT CARD at checkout Select Payment - Pay with Paypal - click Place Order) (you will then be redirected to pay with credit or debit card )

If you have any issues at all, please don't hesitate to contact us.

I hope you enjoyed shopping at kittijewelry.com!

Thank you!

*Please note natural gemstones come in a variety of shades and can appear to have cracks and flaws as it is the natural stone. No two stones are alike.

sku 32892870600-0498-0408


http://kittijewelry.com/turquoise-wrap-bracelet_132566