Amethyst Natural Stone Bracelet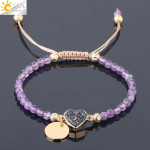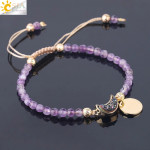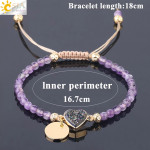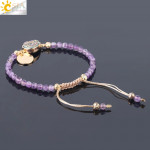 15.95 CAD
http://kittijewelry.com/stone-bracelet_130211
Hurry! Only 2 items left in stock.
Amethyst
Spirituality | Balance | Intuition


Wearing this elegant Amethyst bracelet allows you to benefit from healing energies and activate your third eye. It's a powerful tool to enhance higher states of consciousness and protect you from negative influences. Perfect for facilitating life changes and decision making by bringing you spiritual insights and allowing you to tap into your intuition.
Healing Benefits:
• Enhances spiritual awareness and intuition
• Provides protection from negative energies
• Calming effect to dispel anger and anxiety
• Enhances memory and improves motivation
• Promotes emotional balance and inner peace
Metal Type:

Zinc Alloy

Chain Type:

Beaded Bracelet

Setting Type:

Stretch Bracelet

Material:

Semi-precious Stones

Shape\pattern:

Heart

Clasp Type:

Lace-up

Bracelets Feature:

Natural Stone + 4mm Faceted Purple Beads + Adjustable + Weave Rope

Bracelets Length:

Approx 18 cm

Bracelets Inner Perimeter:

Approx 16.7 cm

Bracelets Beads Size:

Approx 4mm

Natural Stones:

Amethyst & Druzy Quartz
Each piece of jewelry is either hand-made or hand-picked by us. My vision is to bring high quality jewelry, at an affordable price to every women.
We ship directly from our supplier which enables us to bring the savings on to you. Including FREE SHIPPING.
FREE SHIPPING (Approx) CAN 16-26 Days - USA 12-20 Days
**Please note color and size may appear slightly different than the pictures.
(*TO PAY BY CREDIT OR DEBIT CARD at checkout Select Payment - Pay with Paypal - click Place Order) (you will then be redirected to pay with credit or debit card )
I hope you enjoyed shopping at kittijewelry.com!
Thank you!
sku S32950033281-0646-EP0410
http://kittijewelry.com/stone-bracelet_130211