Natural Amethyst Stone Bracelet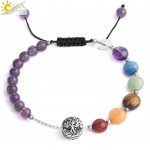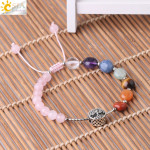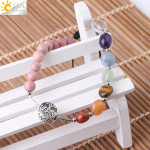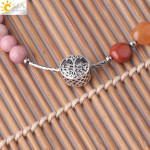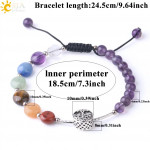 14.95 CAD
http://kittijewelry.com/stone-bracelet_130210
Hurry! Only 1 item left in stock.
Amethyst is a stone of spiritual protection and purification, cleansing one's energy field of negative influences and attachments, and creating a resonant shield of spiritual Light around the body. It acts as a barrier against lower energies, psychic attack, geopathic stress and unhealthy environments.

This trendy bracelet features Amethyst and other natural semi-precious stones.

Metal Type:

Zinc Alloy

Chain Type:

Beaded Bracelet

Material:

Semi-precious Stone

Clasp Type:

Lace-up

Bracelet Feature:

Natural Stone+ 7 Chakra+ Adjustable Braided Rope + Tree of Life

Bracelets Length:

Approx 24.5 cm / Approx 9.6 inches (Adjustable)

Bracelets Inner Perimeter:

Approx 18.5 cm / Approx 7.3 inches (Adjustable)

Bracelets Bead Size:

Approx 6 mm / Approx 0.23 inches

Natural Stones 1:

Rose Quartz , Lava , Indian Agate , Green Aventurine , Picture Jasper

Natural Stones 2:

Tiger Eye , Labradorite , Line Rhodonite , White Crystal

Natural Stones 3:

Amazon Stone , Amethyst , Fluorite
Each piece of jewelry is either hand-made or hand-picked by us. My vision is to bring high quality jewelry, at an affordable price to every women.
We ship directly from our supplier which enables us to bring the savings on to you. Including FREE SHIPPING.
FREE SHIPPING (Approx) CAN 16-26 Days - USA 12-20 Days
**Please note color and size may appear slightly different than the pictures.
(*TO PAY BY CREDIT OR DEBIT CARD at checkout Select Payment - Pay with Paypal - click Place Order) (you will then be redirected to pay with credit or debit card )
I hope you enjoyed shopping at kittijewelry.com!
Thank you!
sku 33007759623-0467-EP0400
http://kittijewelry.com/stone-bracelet_130210