Natural Amethyst Stone Bracelet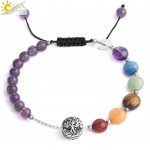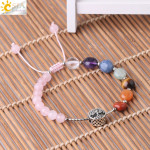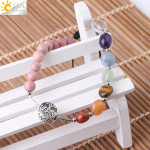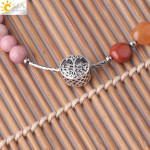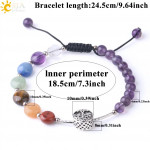 19.95 CAD
http://kittijewelry.com/stone-bracelet_130210
Hurry! Only 1 item left in stock.
Amethyst is a stone of spiritual protection and purification, cleansing one's energy field of negative influences and attachments, and creating a resonant shield of spiritual Light around the body. It acts as a barrier against lower energies, psychic attack, geopathic stress and unhealthy environments.

This trendy bracelet features Amethyst and other natural semi-precious stones.
Metal Type:

Zinc Alloy

Chain Type:

Beaded Bracelet

Material:

Semi-precious Stone

Clasp Type:

Lace-up

Bracelet Feature:

Natural Stone+ 7 Chakra+ Adjustable Braided Rope + Tree of Life

Bracelets Length:

Approx 24.5 cm / Approx 9.6 inches (Adjustable)

Bracelets Inner Perimeter:

Approx 18.5 cm / Approx 7.3 inches (Adjustable)

Bracelets Bead Size:

Approx 6 mm / Approx 0.23 inches

Natural Stones 1:

Rose Quartz , Lava , Indian Agate , Green Aventurine , Picture Jasper

Natural Stones 2:

Tiger Eye , Labradorite , Line Rhodonite , White Crystal

Natural Stones 3:

Amazon Stone , Amethyst , Fluorite
sku 33007759623-0467-EP0575
Metal Type:
Zinc Alloy
Chain Type:

Beaded Bracelet
Material:

Semi-precious Stone
Clasp Type:

Lace-up
Bracelet Feature:

Natural Stone+ 7 Chakra+ Adjustable Braided Rope + Tree of Life
Bracelets Length:

Approx 24.5 cm / Approx 9.6 inches (Adjustable)
Bracelets Inner Perimeter:

Approx 18.5 cm / Approx 7.3 inches (Adjustable)
Bracelets Bead Size:

Approx 6 mm / Approx 0.23 inches
Natural Stones 1:

Rose Quartz , Lava , Indian Agate , Green Aventurine , Picture Jasper
Natural Stones 2:

Tiger Eye , Labradorite , Line Rhodonite , White Crystal
Natural Stones 3:

Amazon Stone , Amethyst , Fluorite
sku 33007759623-0467-EP0575
">
http://kittijewelry.com/stone-bracelet_130210