3 Color Stainless Steel Ring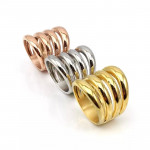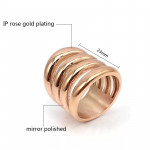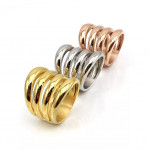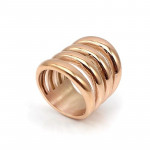 20.95 CAD
http://kittijewelry.com/stainless-steel-ring_134816
Let KittiJewelry do the layering for you with the multi-faceted 3 color versatile ring. Featuring smooth bands of stainless steel, this ring is the ideal accessory for casual sundresses and strappy sandals
Stainless steel jewelry makes a great, durable addition to your jewelry collection that won't scratch or dull, tarnish or wear off. This hypoallergenic metal is used in all kinds of jewelry applications.
Offering reinvented classics, essentials to the most sophisticated styles, we showcase pieces that are made to last beyond the seaso
Surface Width:

12mm-23mm

Item Type:

Ring

Item Name:

Summer fun style

Stainless Steel Ring Color:

silver/gold/rose gold

Main Material:

316l Stainless Steel rings

Style: Mirror Polish



Each piece of jewelry is either hand-made or hand-picked by us. My vision is to bring high quality jewelry, at an affordable price to every women.
FREE SHIPPING (Approx) CAN 16-29 Days - USA 12-25 Days

We ship directly from our supplier which enables us to bring the savings on to you. Including FREE SHIPPING.

(*TO PAY BY CREDIT OR DEBIT CARD at checkout Select Payment - Pay with Paypal - click Place Order) (you will then be redirected to pay with credit or debit card )

If you have any questions at all, please don't hesitate to contact us.

I hope you enjoyed shopping at kittijewelry.com!

Thank you!

*Please note color and size may appear slightly different than the pictures.

sku 32670876601-0800-0900-1000-0289
Surface Width:
12mm-23mm
Item Type:
Ring
Item Name:
Summer fun style
Stainless Steel Ring Color:
silver/gold/rose gold
Main Material:
316l Stainless Steel rings
Style: Mirror Polish
Each piece of jewelry is either hand-made or hand-picked by us. My vision is to bring high quality jewelry, at an affordable price to every women.
FREE SHIPPING (Approx) CAN 16-29 Days - USA 12-25 Days
We ship directly from our supplier which enables us to bring the savings on to you. Including FREE SHIPPING.
(*TO PAY BY CREDIT OR DEBIT CARD at checkout Select Payment - Pay with Paypal - click Place Order) (you will then be redirected to pay with credit or debit card )
If you have any questions at all, please don't hesitate to contact us.
I hope you enjoyed shopping at kittijewelry.com!
Thank you!
*Please note color and size may appear slightly different than the pictures.
sku 32670876601-0800-0900-1000-0289">
http://kittijewelry.com/stainless-steel-ring_134816