Amethyst Natural Stone Bracelet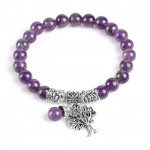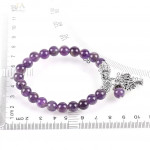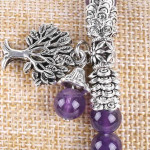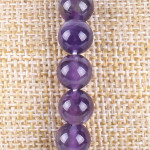 14.95 CAD
http://kittijewelry.com/amethyst-natural-stone-bracelet_130214
Hurry! Only 1 item left in stock.
Purple amethyst gemstone bracelet with tree of life silver plated charm and dangling amethyst bead! Unique and inspirational!
This is a eye catching purple amethyst gemstone with natural patterns of translucent and opaque layers of white, purple and occasionally some light brown striations. It gets its name from its natural cheron-like pattern of amethyst and white quartz. Amethyst is a one of the most spiritual and protective stones. It blocks negative energies, provides emotional balance and helps calm and focus the mind. It is a powerful and excellent stone for meditation.

Metal Type:

Zinc Alloy

Material:

Semi-precious Stone-Amethyst

Chain Type:

Beaded Bracelet

Style:

Bohemia

Product Name:

Bohemian Natural Amethyst Stone Bracelets Bangles Tree of Life Charm

Bracelets Length:

Approx 20cm

Bracelets Inner Perimeter:

Approx 17.5cm

Bracelets Beads Size:

Approx 8mm

Bracelets Weight:

Approx 23g
Each piece of jewelry is either hand-made or hand-picked by us. My vision is to bring high quality jewelry, at an affordable price to every women.
We ship directly from our supplier which enables us to bring the savings on to you. Including FREE SHIPPING.
FREE SHIPPING (Approx) CAN 16-26 Days - USA 12-20 Days
**Please note color and size may appear slightly different than the pictures.
(*TO PAY BY CREDIT OR DEBIT CARD at checkout Select Payment - Pay with Paypal - click Place Order) (you will then be redirected to pay with credit or debit card )
I hope you enjoyed shopping at kittijewelry.com!
Thank you!
sku 32820753469-0524-EP0418
http://kittijewelry.com/amethyst-natural-stone-bracelet_130214